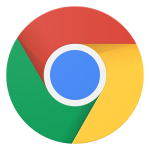 Intro: Chrome Browser offers features like safe browsing, voice search, personalized recommendations, incognito browsing, synchronize bookmarks, passwords and settings across multiple devices, save web pages and videos for offline viewing and Autofill forms.
Note: To download Google Chrome Browser old versions APK scroll down the page or click here: Old Versions
---
Download Latest APK »


Latest Version: 63.0.3239.111
Supported OS: Android 4.1 & up
Package Name: com.android.chrome
Developer: Google LLC
APK Size: 44.4 MB
APK SHA1: EEB305201736447A02B27B6CAB5DA3AF686B6781
Signature: 38918A453D07199354F8B19AF05EC6562CED5788
Updated: 15-Jan-2018
---
Old Versions:

• Chrome 60.0.3112.107
Download APK »
Requires: Android 4.1+
APK Size: 46.3 MB
APK SHA1: 667B55E774C768114F499816580843B23ACAF75F
• Chrome 56.0.2924.87
Download APK »
Requires: Android 4.1+
APK Size: 44.8 MB
APK SHA1: 5FEBF72A8D74E3B82D04DDBB668B2C98D1FB6333

Version Notes:
63.0
– This release improves autocompletion in the address bar, making it even easier to get to your favorite websites. We've also included stability and performance improvements.