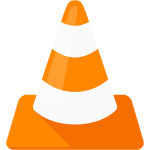 Intro: VLC media player is a free and open source cross-platform multimedia player that plays most multimedia files as well as discs, devices, and network streaming protocols. VLC for Android supports all popular media and subtitle formats. It also includes support for multi-track audio, auto-rotation, aspect ratio and gesture controls.
Note: To download VLC old versions APK scroll down the page or click here: Old Versions
---
Download Latest APK »

Latest Version: 2.5.17
Supported OS: Android 2.3 & up
Package Name: org.videolan.vlc
Developer: Videolabs
APK Size: 19.0 MB
APK SHA1: D692478C21D8A47017853FE87FB7309DBE71EB08
Signature: EEFBC981428343BBDDFFF6B23B6BD8717351410C
---
Old Versions:

• VLC 2.5.13
Download APK »
Requires: Android 2.3+
APK Size: 18.7 MB
APK SHA1: 6B45275A54F58E7FE2A57484A4B2A80EFB7C8192
• VLC 2.5.4
Download APK »
Requires: Android 2.3+
APK Size: 18.3 MB
APK SHA1: D436F36B85ECAC55486D58C6CCF969790B43BA09
• VLC 2.0.6
Download APK »
Requires: Android 2.2+
APK Size: 16.7 MB
APK SHA1: 5E308B31DE0C0006EB5DFB482AAB9D952B42FB0F

Version Notes:
2.5.17
– Show FAB for albums in Artist/Genre view
– Fix playback rate not saved for video
– Fix file deletion on Oreo (Internal storage only)
– Fix saving as playlist appending to an existing one instead of overwriting it
– Fix widget updates on Oreo
– Fix resume sometimes plays the wrong position
– Misc. fixes.
Chromebook:
– Implement right-click support on media items
– Implement Drag&Drop to play a media
2.5.13
– Some users were unable to see some of their Artists/Albums in media library. We are sorry for and this update should fix it.
It will also try to recover your playlists from the old database to the new one.
– Fix videos not disappearing after deletion
– Restore WhatsApp videos for those who didn't had it anymore
– Add WhatsApp videos to quick access shortcuts
– Fix 'seen' check on RTL devices
– Fix some chromebooks showing TV interface
2.0.6
– 2.0.6 is an update fixing crashes, updating codecs and saving the audio delay for BT headphones.
– 2.0 introduces a large number of features, notably network disk browsing (Windows shares, UPnP, NFS, SFTP…), favorite folders and URLs, video playlists, popup video, new permissions support, subtitles download, rewritten notifications and control, and a new history.
– The Android TV and Android versions were merged, so that every device can get the updated Android TV look.